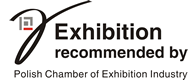 Heidelberg Polska and Grafikus on the Poligrafia Fair

The next Poligrafia fair will include a conference devoted to new technologies and solutions presented by Heidelberg Polska and Grafikus. During the meeting, there will be presented the first comprehensive report on the printing industry market. This event will be held on Wednesday 13 April, on the MTP grounds.
The organisers of "Printing - the market and novelties" conference are Heidelberg Polska, Grafikus, KPMG, PBKG and Międzynarodowe Targi Poznańskie. It is addressed to a wide range of people responsible for manufacturing processes and technological solutions in printing plants, but also to the owners and managers of printing houses.
In the first part of the meeting, there are scheduled two thematic blocks developed by Heidelberg Polska and Grafikus on selected innovations relevant for the process of printing, refining, bookbinding operations and cooperation with customers.
In the second part of the conference, there is scheduled a presentation of the first report on the Polish printing market prepared by KPMG in cooperation with Polskie Bractwo Kawalerow Gutenberga (the Polish Brotherhood of Gutenberg Knights).
All participants will receive at the end of the conference a copy of the KPMG report "Printing Market in Poland", as well as an invitation to the Poligrafia 2011 evening gala for exhibitors combined with a banquet and a concert organised to celebrate the 25th anniversary of Grafikus.
The meeting will be held 13 April in the the World Trade Center conference room on Międzynarodowe Targi Poznańskie grounds. Admission is free for the visitors of Poligrafia fair. You can register at www.mtp24.pl.